Last Updated on November 6, 2014.
Tiger Schulmann's Karate Cubs gets pre-schoolers moving in the right direction towards developing strength and coordination.
Kids who get involved in activities such as this at an early age do well developmentally.  Focus and balance are two of the biggest areas of concern for kids in this program.  Not to mention 3 and 4 year olds have usually developed a strong bond with their parents.  A socialization activity like karate does wonders for helping with separation anxiety that many kids this age deal with.
Strength and coordination are qualities it is never too soon to start working on.  However, it is essential to go about making strength gains the right way at this early age.  Exercises in karate class that use natural body movements such as punching, kicking, maintaining a proper stance, and movement exercises will not stress young muscles, tendons, and ligaments, but will do wonders for their development.
Focus will become one of the most important elements of young child's life.  So the sooner a child starts working on his ability to stay focused the better off they will be.  Tiger Schulmann's Karate Program has been the focus of a doctoral dissertation citing the benefits to children already diagnosed with ADHD.  Imagine the helpful effects on a young mind that may not have been diagnosed in this way.  Children are like sponges and their progress in a karate program like this one is evident after only a few classes.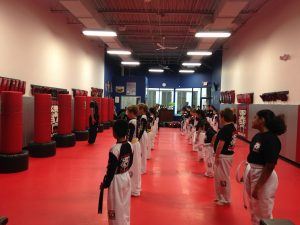 So bring your child to the best Karate Program in existence, Tiger Schulmann's Karate!
Call Tiger Schulmann's Karate and Mixed Martial Arts of Wayne NJ at (973)694-3495
 If you found this article helpful or insightful, please share with your Facebook Friends and Twitter Followers!
 LIKE us on Facebook- www.facebook.com/TigerSchulmannsWayne
Follow us on Twitter- @TSMMAWayne
Tiger Schulmann's of Wayne also serves neighboring towns Pequannock, Pompton Plains, Pompton Lakes, Riverdale, Butler, Kinnelon, Little Falls, Totowa, Lincoln Park, Montville, Towaco