Last Updated on April 27, 2014.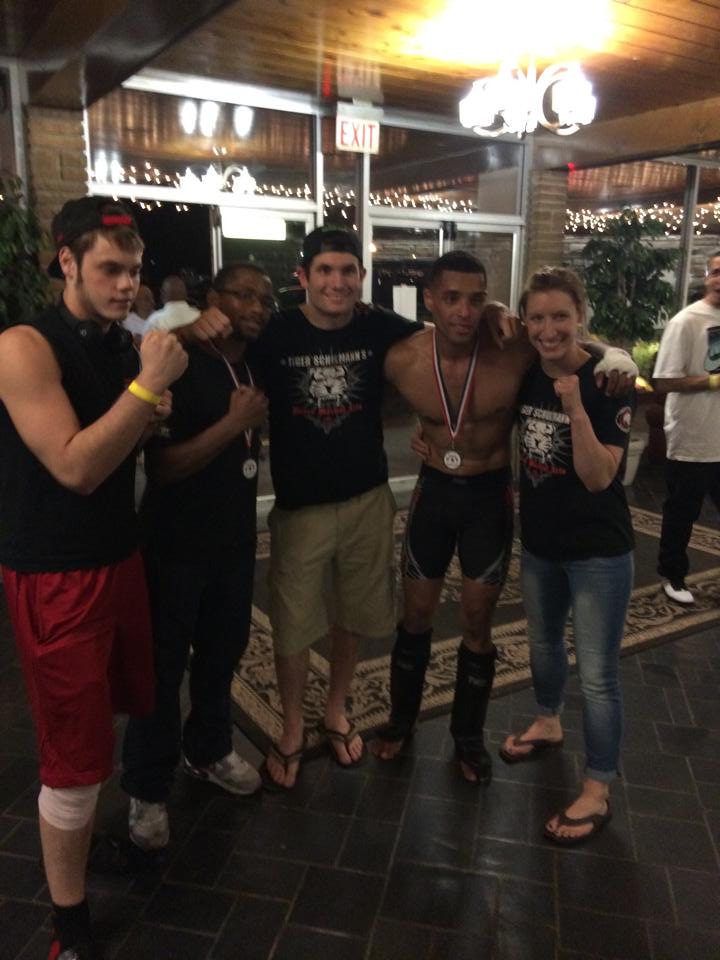 Allentown, PA – Team TSMMA gets valuable experience fighting at Althouse Fight Night. The biggest Kickboxing show in Pennsylvania features many of the up and coming Tiger Schulmann's fighters. On Saturday night in Allentown five Kickboxers would continue the prolific history of Team TSMMA in the event.
Roger Garcia of TSMMA Bethlehem would kick things off Saturday night taking on Nathan Maul of High Voltage. Garcia would be greeted by a great home crowd as Team TSMMA fans made their voices heard. Garcia wouldn't disappoint, picking Maul apart with a series of power punches early.
Using a few successful kicks to set up his power punches, Garcia kept the pressure on Maul, backing him against the ropes for the whole of Round 1. Maul continually covered up, but Garcia used a strong right uppercut to slice through his defense.
Round two started off much like Round 1. Maul was a willing combatant, but couldn't handle Garcia's power. Every time he landed a shot he was hit back with three or four. Maul showcased an amazing chin, eating dozens of power punches, but simply had no answer for Garcia's superior boxing.
Maul started things out strong in Round 3, but Garcia remained calm. Maul could never seem to get anything going for more than a few seconds. Instead Garcia would push the pace and take over control with a barrage of crosses and hooks. It was a cross hook that would put the exclamation mark on the fight as the bell to Round 3 ended the fight.
Roger Garcia took home the victory over Maul moving his record to a perfect 5-0 Kickboxing.
Up next was Will Brown of TSMMA in Cherry Hill. Fighting ten pounds lighter than Garcia at 155, Brown would face off with Josh Vanns of Jack's Gym. Brown was fighting for the third time looking to move his record above .500. The Cherry Hill fighter came out firing at Vann, pushing a hard pace throughout the first round.
Delaware's Vann made it an exciting night as he answered shot for shot with Brown. The two kept the crowd entertained by throwing non-stop for the whole two minute round. A tough round for the judges, but a fun one for fans.
Both fighters came in shape as the second round was a near repeat of Round 1. Vann started dropping his hands near the end of the round but kept answering Brown shot for shot.
Brown came out strong looking to challenge Vann in Round 3 on conditioning. Both fighters obviously trained hard as the amazing pace of the first round never faltered throughout the fight.
In the end the judges saw it for Vann, but credit to TSMMA Cherry Hill's Will Brown who fought a great fight and did what TSMMA fighters are known for, come to the fight in great shape.
TSMMA Bethlehem would be represented one more time with Terron Cunningham taking on Kollin Bordner in the third fight of the night for Tiger Schulmann's.
The Bethlehem lefty came out bouncing in his rhythm before landing the very first punch he threw, a beautiful cross right down the middle. That was followed by the thudding round kick that stunned Bordner.
Cunningham remained amazingly calm for an amateur fighter, showing awesome combinations using level changes to hit Bordner in the head, body and legs.
Bordner would stumble back to his ring after a two minute long barrage from Cunningham. At one point the taller Cunningham caught a kick from Bordner before answering with one of his own that chopped the Althouse Kickboxing competitors legs out from under him.
Round 2 was a clinic as Cunningham used nothing but a cross, hook, round 2 combination to devastate Bordner. The referee would step in to give Bordner a break after a perceived illegal blow, but that didn't help him get back in the fight.
Cunningham would press the action and finish Bordner with a beautiful left leg kick to the head. He set it up with repeated kicks to the body and leg before bringing the back leg upstairs for the finish.
It was Cunningham's debut in the ring and may have been the most composed and effective debut I've ever seen.
Sempai Eric Rodriguez of TSMMA Manhattan was up next. Rodriguez routinely makes the trip out to TSMMA Allentown on Friday nights to train with Shihan James Simpson and his talents in the ring earned him a Junior Title fight Saturday night.
Rodriguez would take on Sean Keys of Jack's Gym in the quest for the Title. The young Black Belt has recently added a Junior Olympics boxing title to his trophy case to go along with numerous NAGA and Challenge of Champions trophies.
Now he was looking to put a USKA Kickboxing title alongside all of them. The three round fight would be contested under Leg Kick rules. 'The Beast' didn't make the trip out 78 for nothing. He came to win, using a crisp jab to close distance on the taller Keys before firing power shots inside.
Late in the Round Rodriguez landed a crisp low kick and followed a few seconds later with a cross that snapped Keys head back.
The cross continued to be effective for him in the second round though Keys was firing back with low kicks to the calf muscle and spinning techniques. Rodriguez stayed composed throughout finding the sweet spot with a procession of punches as the round came to a close.
Round 3 looked much like the first two rounds with both young fighters showing courage to stay inside and trade shots. Ultimately the fight would go to Keys on a close decision, but both fighters earned the respect and appreciation of the crowded Ballroom.
Finishing up the night for Team TSMMA was Andrew 'Jackal' Alvarez. The Cherry Hill student graces the walls of many of the different Tiger Schulmann's locations as his ripped physique has helped promote recent advertising campaigns.
He entered the ring looking to prove it was more than just his abs he built at Tiger Schulmann's. He would take on another Althouse Kickboxing fighter, Brandon Bobbin, in the 165 pound fight.
Both fighters came out swinging for the fences with the first salvo coming as Alvarez knocked Bobbin to the mat with a body kick. Bobbin would get up quickly and the referee didn't award a knockdown but it set the tone.
Alvarez would finish the round with the same body kick that floored his opponent earlier. This time Bobbin stayed on his feet but went back to his corner with his chest heaving looking to catch his breath.
It would be punches that dominated Round 2 as Alvarez earned two standing eight counts early in the round. Bobbin would try and make a stand but it wasn't enough as the 'Jackal' would force the referee to stop the fight. Bobbin turned his back to a barrage of punches which would normally earn a standing eight count. Since he already had been given two in the round it brought Alvarez a TKO victory and finished a great night for Team TSMMA.
Once again Althouse Fight Night served up a great night of fights for fans and gave the young fighters under Shihan James Simpson's training a place to show their talent. Team TSMMA will be right back at Althouse in June and look for the first Professional Kickboxing event in Pennsylvania coming in September.