Last Updated on November 26, 2014.
Bobby Smith and Gerry DeJesus have spent thousands of hours training their Martial Arts Skills. The two Tiger Schulmann's fighters were given the chance to display those hard earned Kickboxing talents at USKA Fight Night. Irv Althouse has long provided the most successful promotion for Pennsylvania fighters to get their Kickboxing careers started and that's just what Smith and DeJesus were hoping to do.
Bobby Smith was up first, the sixteen year old TSMMA Feasterville Sempai making his second debut. A scheduling mix up had him facing a 31 year old in the summer of 2013. That fight was turned into an exhibition and the long wait to make a real debut had Smith amped up.
Smith faced a tough matchup against 18 year old Sean Terry. Terry brought a victory into the ring with him and had not only the age, but competition experience advantage as well. What Smith had was a height and reach advantage. The 6'1″ Smith was towering over Terry and he used that height to it's full advantage.
Smith plastered Terry with jabs and low kicks right from the opening bell. At one point he landed three low kicks in less than ten seconds to the same spot on Terry's leg. Smith's opponent chose to take a knee and use the standing eight count to try and recoup. It didn't work as Smith came right back out and blasted a round kick. Terry caught it, but ate four punches for his trouble. As soon as he let go of Smith's leg he ate another low kick and took a knee for the final time.
See the fight here.
DeJesus was coming off a debut victory of his own, looking to build his record to 2-0. The young TSMMA Bethlehem students now trains regularly with Shihan Simpson at TSMMA Allentown and his hard training would serve him well in this explosive matchup. 
DeJesus had a strong opponent in Eddie Alvarez (not that Eddie Alvarez). The two would spend six minutes trading shots and earning the respect of everyone in the house.
DeJesus started out strong using quick movement to create angles and ultimately rock Alvarez with some powerful punches early in round 1. In fact at one point it looked like Alvarez might have trouble continuing as he was wobbly legged. A funny thing happened a minute in though as Alvarez regained his legs and came right back after DeJesus.
It would be the pivotal Round of the fight as DeJesus traded hard shots with Alvarez but either fighter could have been awarded the advantage.
Round 2 was a beautiful one for DeJesus as he stayed right on top of Alvarez from the beginning. The Bethlehem fighter was landing hard shots to the head of Alvarez in combination. He again rocked Alvarez and left his opponent wobbly legged.  This time DeJesus didn't let up and continued his dominance through the end of the Round.
Alvarez would once again show his warrior spirit making it an amazing learning experience for DeJesus. It was the kind of fight of which future champions are made. Alvarez came right back at DeJesus in the 3rd Round. The two were trading power shots with each landing and staggering the other. The end of Round 3 left the crowd on the edge of their seats. It seemed clear the fighters traded the last two rounds but the first was up for grabs and no one knew what the judges would decide.
Judge one announced 29-28 for DeJesus, judge two 29-28 for Alvarez, and finally judge three 29-28 for DeJesus. Shihan Simpson and the young DeJesus were airborn in the corner as they displayed their excitement for the hard fought victory.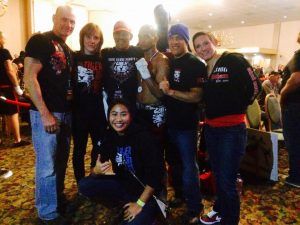 It was a proving ground fight for the young TSMMA Bethlehem fighter, one which could very well launch him towards a highly successful Kickboxing career.
Congratulations to our two young TSMMA Fight team members for their incredible victories on Saturday night. And thanks to USKA for once again providing the battleground for those victories.