Last Updated on May 19, 2015.
Ty Gaffin began training at Tiger Schulmann's Mixed Martial Arts the way most students do. The Yardley native was invited to try a class by his Aunt and cousins who were already students. That was seven years ago. The rest is the story worthy of any Black Belt.
From his very first class with Sensei Thad Campbell Ty showed the most important skills needed to learn. For the entirety of his one hour class he paid attention, not losing his focus for even the briefest of moments. That sort of concentration was nearly unheard of for an 8 year old boy.
Of course it came as little surprise as his Aunt had already made the journey to Brown Belt in her own training and would shortly thereafter achieve her Black Belt.
What was surprising was the overall skill set he brought with him. Ty came in a package deal with his younger sister. Joey was a precocious six year old with a slightly different personality than her big brother. Were Ty was laid back and observed everything before commenting, Joey was willing to raise her hand and answer any question, not worried if she was right or not (though she usually was).
Thus began a journey that has hit an amazing road mark seven years later. Ty was one of only seventeen students in all of Tiger Schulmann's to pass the Black Belt test in April. Seventeen may sound like a big number but when you realize more than 8000 students train at TSMMA in a given month it gives new perspective.
So what makes a Black Belt in Tiger Schulmann's. Ty is a great example. Mostly it is someone who simply doesn't quit. Early on it was the long days of class with no one but his younger sister to train with. For most of his first few years, great training partners were hard to come by.
Ty's mom and dad are both business owners and their free time was limited. Ty could only make it to three classes a week and those were often times when other kids his age couldn't make it. So what did Ty do? He set an example for everyone else in the class by training harder and with more focus than everyone else.
That was one trait that would never change. With each new partner he had in class, Ty stood out. He set an example. In Martial Arts the word Sempai is used to refer to someone who has achieved the rank of Black Belt. In Japanese Sempai means Older Brother or Older Sister. It suggests the ideal of an Older Brother or Sister, not necessarily the reality.
In fact for Joey Gaffin her older brother was the ideal. Someone she could count on to set the right example every single day and in the worst case scenario someone she could count on to be a great training partner when there were no other options.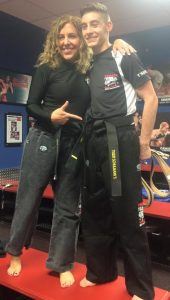 The journey was not without it's struggles. As if having your younger sister as your main training partner for a couple years isn't enough of a struggle, there were the other younger less focused boys he was forced to train with on many occasions, or the countless tournaments that didn't go quite as hoped.
Early progress in Belts was hard to come by. Training only three classes a week when your peers are making it to six or eight means seeing others achieve new belts more quickly than you do. This never was a negative for Ty who simply persevered and continued to bug his parents to bring him more often. That gradually led to 4 hours, then six and finally ten classes every week!
Then there was the first day of Middle School. Ty has always been small. Like many smaller kids he faced the initiation process of Middle School. One of the older boys decided to block the hall and test Ty's confidence. It was a test he would pass with flying colors. He did exactly what he was taught. First he asked the bully to move, then when the boy wouldn't, he used the leverage and technique he had been taught, forcing the boy out of his way.
It would be the first and last time he was tested by a bully!
Trips to the Challenge of Champions (the largest Mixed Martial Arts tournament for kids on the East Coast) began to net trophies. Even though his younger sister might boast more than he, it didn't stop Ty from continuing to challenge himself. In fact he was so willing to push himself he would even accept challenges others might find hopeless. Like when as a Red Belt there was no division for him. So he chose to compete against Brown and Black Belts in a Division whose top allowable weight was nearly 30 pounds above his own.
As for training partners Ty chose a unique approach at twelve years old. If you are hurting for training partners why not bring your own. So he brought his best friend Sam to class and quickly helped his friend improve enough to become a steady partner. The two Yardley's boys had the same birthday and as they became teenagers they also became amazing examples for every other student at TSMMA Feasterville.
Another funny thing happened as Ty showed the patience and resolve to set a great example for his younger partners. A group of them improved so much they began to become great partners as well.
Ty was also buoyed by the path of two older students, Joe Martin and Zach Moyer who both received their Black Belts in 2014. Seeing his Aunt receive her Black Belt six years earlier was cool, but Sempais Martin and Moyer were frequent training partners and gave a much clearer picture of what the journey would be like for Ty.
They also pushed Ty to the limit of his skills. Forcing him to improve in such a rapid fashion that he flew through the levels of his Brown Belt and impressed the judges at the Black Belt test to pass him on his first try. The 16 others he passed with among a group of nearly fifty testing!
Now Ty continues to set an example for both young and old alike, splitting his time as a helper in kids classes to supplement the four adult classes he takes every week. In total he trains for nearly 9 hours each and every week, and the skills are apparent.
For his parents though it is the confidence he has gained through his Mixed Martial Arts training that truly resonate. The countless hours of stories from Sensei Campbell and Joshu Craig Alexander about Focus, Discipline, Values and many other topics that Ty not only listened to, but truly heard. Those thousands of hours of physical and mental training have combined with the amazing lessons he's received from his own family to mold a truly inspirational young man.
What is a Mixed Martial Arts Black Belt. It's a 15 year old who is quick to help someone in need while being even quicker to face down bullying in all it's forms. It is a teen with enough confidence to stand out from the crowd, while also having so much confidence that he draws one to him. It is a young man who anyone would be proud to call their son and one for whom I am extremely proud to call Sempai!
By: Sensei Thad Campbell