Last Updated on December 1, 2014.
Why put off until tomorrow what you can do today?
It is actually the perfect time to make your resolution to lose weight become a reality. Most American's put on one pound between Thanksgiving and Christmas and they don't lose that pound the rest of the year. At Tiger Schulmann's Kickboxing classes in Abington you can break the mold. 
No need to join a gym for New Year's in order to reverse the effects of Holiday eating. That won't work anyway. Instead join a program with 30 years of proven results and get personal instruction every time you walk through the door.
Act Early And Make Your Resolution Work
Sensei James Garzillo has been Kickboxing for twenty years and teaching in Willow Grove and Abington for nearly 15. He is a professional Kickboxer who doubles as a nutritionist (a side benefit you don't have to pay extra for) and whose best skill is motivating his students.
You won't be stepping into a ring to lace up gloves for a fight. Instead you will burn 800 calories in a one hour 10 Round Workout that will teach you real Self-Defense one step at a time. 
Classes move at your pace, but motivate you to push yourself to your limit. More than 100,000 adults have seen the benefits of Tiger Schulmann's Kickboxing and all you have to do is google Tiger Schulmann's Weight Loss to see the results for yourself.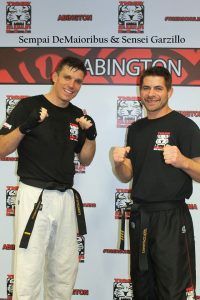 Do not wait for New Years to make your resolution, start right now and you won't gain any weight this Holiday season. Instead you will drop pounds while gaining the sense of confidence that comes from knowing how to defend yourself.
Call TSMMA Abington today or register online for your Free Trial Class and take advantage of their Holiday Special to get the best deal of the year on training!