Last Updated on December 1, 2014.
Seminar focuses on Women's Safety to prepare for the Holiday Shopping Season.
Do you shop alone at night? Where do you park?  Do you notice the color of the car next to you? Are you fumbling for keys with too many bags weighing you down upon returning to your car?  Do you check the back seat before you get in?  Are you aware of your surroundings?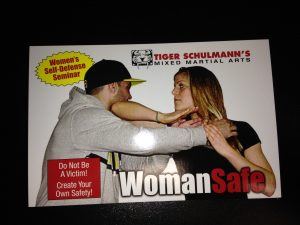 These are just a few of the points touched upon at Tiger Schulmann's Mixed Martial Arts WomenSafe Seminar, self defense and women's safety presentation.  A two part lecture and hand's on self defense class.
Women's Safety has taken a forefront in today's society, with hoodlum "knockout" games being played by delinquent teenagers, and the ever present assailant on the loose.  Women who know how to defend themselves are 80% more likely to fend off an attack and recover quicker from injuries sustained, emotionally and physically.
The women who attend the seminar all receive important tips on awareness, women's safety, and get  a free trial of kickboxing classes.  Not only will these classes teach realistic self defense techniques, but also help to get everyone involved into amazing physical shape.
Don't miss this ever important seminar on Women's Safety and  get started with Women's Kickboxing call Tiger Schulmann's of Wayne School at (973)694-3495.
Space is Limited and Reservations are Required!
LIKE us on Facebook- www.facebook.com/TigerSchulmannsWayne
Follow us on Twitter- @TSMMAWayne
Tiger Schulmann's of Wayne also serves neighboring towns Pequannock, Pompton Plains, Pompton Lakes, Riverdale, Butler, Kinnelon, Little Falls, Totowa, Lincoln Park, Montville, Towaco